Among the Lowest Electrical Rates in the Region
Our electrical rates are among the lowest in the region. Our customers typically pay an average of 16 percent less than neighboring utility customers. We rank 6th for the lowest rates compared to neighboring utilities and other Washington PUDs.
Electric rates are based on the cost of providing reliable electricity. Residential customers pay a service availability charge of $35.50 per month plus 6.23 cents per kilowatt hour. A residential customer pays approximately $160.10 per month based on 2,000 kWh of usage.
For additional rate information, download our 2022 Electric Service Rates & Credit Policy (pdf).
Public Power Means Lower Rates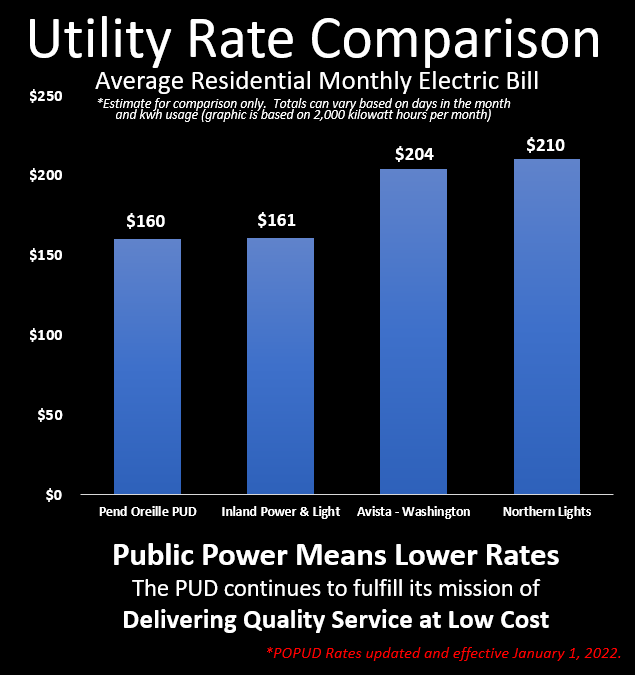 The below graphic provides a comparison of Pend Oreille PUD's rates versus our neighboring utilities and other Washington PUDs.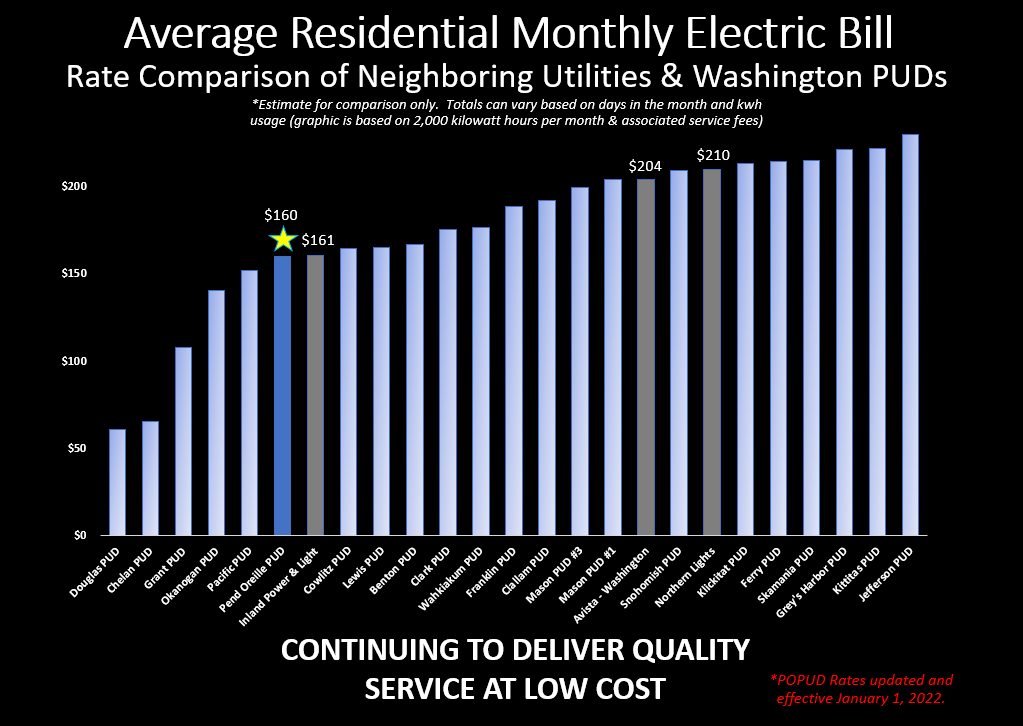 Pend Oreille PUD Rates
Service Availability Charge - $35.50 per month
kWh Charge - $.0623 per kWh
Average Monthly Bill - $160.10 per month (based on 2,000 kWh)
Rates are current as of January 1, 2022, but are subject to change. Our neighboring utility rates can be found here:
Facts about rates and charges:
Energy rates: cover both the cost of the energy generated or purchased and the cost to deliver the energy to a home or business.
Service availability charge: (or fixed charge) covers the cost of the infrastructure needed to deliver energy. (This infrastructure is needed regardless of how much energy a customer uses each month.)
Fixed basic charges are generally designed to recover the costs to serve a customer that are largely independent of usage (metering, billing, wires, etc.), while the energy charge reflects the cost to generate and deliver energy.
Fixed costs are expenses that remain the same for a utility regardless of the amount of energy its customers consume.
Maintenance of the system requires both capital investment and ongoing operation and maintenance expenses, such as outage restoration, asset replacements, vegetation management, locating, tools and equipment, regulatory compliance, etc.
*By actively managing our assets we will be able to provide reliable service in the future*
Demand: Both consumption and demand charges are part of every customer's bill. Residential customers pay one rate of charges for electricity service, covering both consumption and demand. This simple, combined charge is possible because there is relatively little variation in electricity use from home to home. For industrial and commercial customers, whose demand and consumption use, vary greatly. The amount and size of this equipment must be large enough to meet peak consumption periods.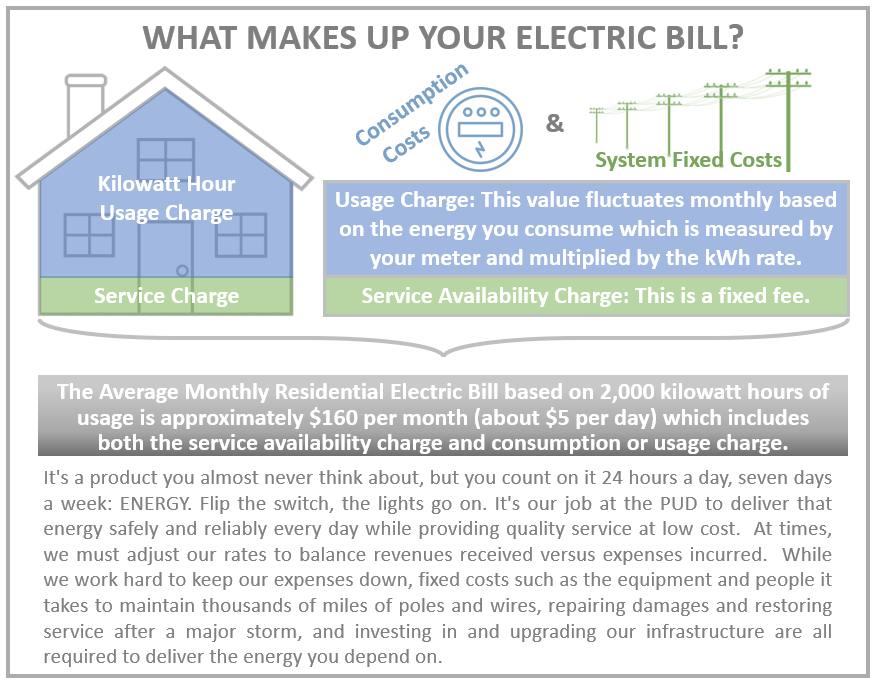 We invest in generation and distribution equipment to meet the maximum demand that all customers may require at one time. We use peak demand to properly size electric service for our customers. Separate charges for energy consumption and demand more fairly distribute the costs of providing service to customers who use large amounts of energy. Energy charges are based only on the total amount of energy a customer consumes. Demand charges are based on the highest level of electricity supplies at one time during the billing process.