Operation Round Up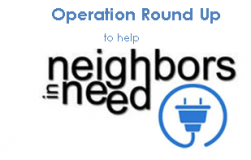 Operation Round Up for Neighbors in Need provides emergency energy assistance grants to households in our county. The grants go to individuals and families to help them get back on their feet again following unexpected emergencies or hardships.
Helping families keep warm is Operation Round Up for Neighbors in Need's primary goal.
Donations are forwarded to Rural Resources for distribution to those who qualify. Your financial gift is tax deductible, and you will be sent a summary of your yearly contributions on the January and February statements.

How you can help
Round Up

If selected, each month, PUD "rounds up" the electric bills of participating customers to the next highest dollar. For example, a consumer's monthly bill of $52.73 would be automatically rounded up to $53.00, with the additional 27 cents going to the Operation Round Up for Neighbors in Need fund.
Through participation in Operation Round Up, the average contribution per customer is approximately fifty cents ($.50) a month, or six dollars ($6) per year.
Pledge

If you wish to contribute the same amount every month, pledging is the way to go. We will include your pledge on your monthly PUD statement, simply just let us know the amount you wish to include.

Add to your bill

You can help by adding a donation to your monthly energy bill. You can make a one-time donation when you pay your bill—or any other time throughout the year. Give as many times as you like; you choose when and how much.

Other ways

Send a separate check to:
Operation Round Up for Neighbors in Need, PO Box 190, Newport WA 99156
Checking the box on an Operation Round Up® form and sending it to Pend Oreille PUD.
You can download the Sign-Up Form (pdf)
Emailing: information@popud.org
Contact Customer Service at: (509) 447-3137
Budget Payment Plan
No more seasonal surprises! The PUD Budget Plan lets you pay the same amount every month, all year. Payments are based on an average of your previous year's usage. Call for information.
Winter Low-Income Payment Program
Please call Customer Service at (509) 447-3137 to inquire about this program during the winter months between November 15 and March 16.